Nepal visa is available to travelers and citizens of almost all the countries in the world. Depending upon who requires it, Nepal offers several types of visas, such as Diplomatic, Official, Business, Study, Residential, Tourist, Transit visas etc.
Tourist Visa
Tourist visa is offered to tourists and travelers who are interested in visiting Nepal for tourism purposes. The duration of Tourist Visa may range from a minimum of 15 days up to 150 days in a year. Nepal provides direct on-arrival visa to tourists once they arrive at Nepal's international airports as well as land entry/exit ports. Tourists can also apply for visa at nearest Nepalese embassies from where they live.
Visa before arrival
If there is a Nepalese Embassy near the place you live, then you can easily apply for Nepal tourist visa. In order to apply for this, all you have to do is visit the nearby Embassy of Nepal and fill up a tourist visa form and get the visa stamped on your passport. In addition, you can also access Nepal tourist visa form online, by visiting Nepal Immigration page. You can get Nepal Tourist Visa from Nepalese Diplomatic Missions stationed abroad prior to your arrival in Nepal.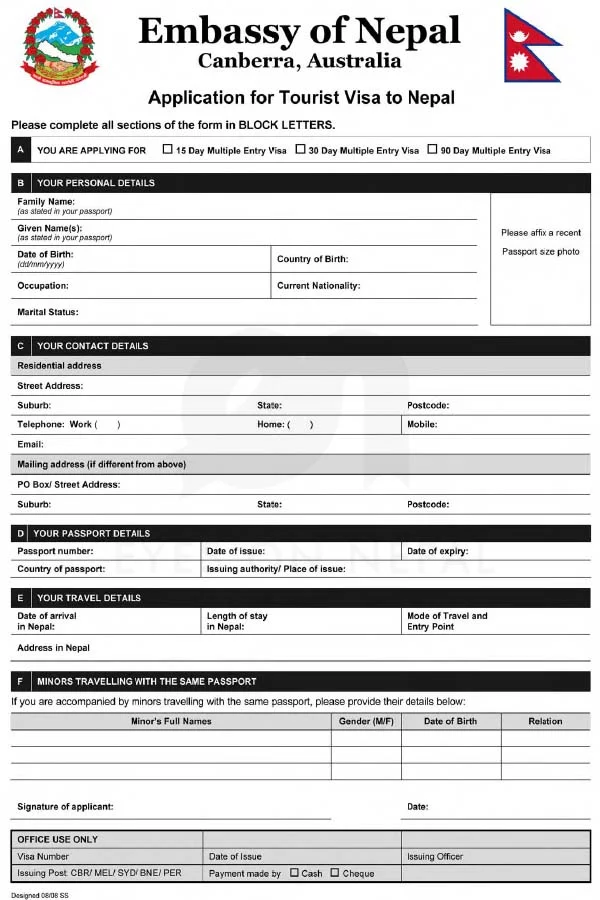 On arrival visa
You can also get Nepal Tourist Visa as soon as you arrive in Nepal. This type of On-Arrival Tourist Visa is given at international air or land entry/exit points. Tribhuvan International Airport and Gautam Buddha International Airport are the only two air entry/exit points offering On-arrival Visa. Likewise, Land entry/exit points offering On-arrival Visa are Kakarbhitta, Birgunj, Belahiya (Bhairahawa), Jamunaha (Nepalgunj), Mohana (Dhangadhi) and Gaddachauki (Mahendranagar), Kodari and Rasuwagadhi.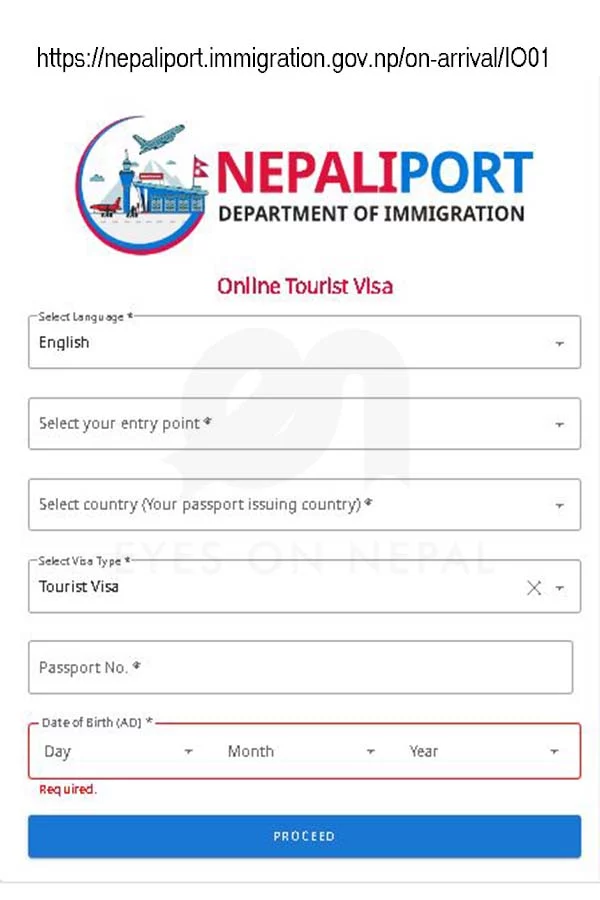 Procedure for On arrival Visa
This procedure is only applicable in international airports.
Fill in ' Arrival Card '
Fill in Online 'Tourist Visa 'form ( you can fill it up prior to your arrival visiting our official website Department of Immigration / fill it up using Kiosk machines upon your arrival at the airport)
Make payment at the bank situated inside the Airport and get the receipt
Proceed to the Immigration Desk with your online form, payment receipts and your passport and hand in your documents to immigration officer for visa processing.
Visa Fee to enter Nepal
15 Days – 30 USD
30 Days – 50 USD
90 Days – 125 USD
Visa fee for travelers from SAARC Countries and China is fully waived. This visa is also called Gratis Visa. Note that Indian nationals do not require visa to enter into Nepal.
Visa Extension
Tourists are only allowed to stay in Nepal up to 150 days in a single year. Tourist visa is valid for a minimum of 15 days. Visa validity can be extended before it expires by visiting Department of Immigration in Kathmandu and immigration office in Pokhara.

If you are extending your stay in Nepal, we have some exciting tour packages.
Everest base camp trek 13 days
Annapurna circuit trek
Bhutan tour
Extension Fee
• Tourist visa extension is done for minimum 15 days with USD 45 and USD 3 per day for additional days.
• In the case of delay less than 150 days additional USD 5 per day as late fine.
Visa free countries
All nationalities require visa to enter Nepal except Indian nationality. Travellers from SAARC countries can get free tourist visa to Nepal. Chinese travelers can also get free tourist visa to Nepal. Children below 10 years and Non Residential Nepalese (NRN) card holder are also eligible for Gratis (free)visa.
Chinese Nationals
Visa Check
Tourist can check their visa status online on https://Nepaliport.immigration.gov.np/visa-check where tourist can easily know about the validity and status of their visa. You can also apply online for visa extension though you will have to collect it in-person.
Entry points of Nepal
Air Entry/Exit points
Tribhuvan International Airport and Gautam Buddha International Airport are the two international airports of Nepal. 32 international airlines fly to Nepal from major airports such as Qatar, Flydubai, Air Arabia, Singapore Airlines, Cathay Pacific, Air India, Druk air etc.
Land Entry/Exit points
Entry point of Nepal from India
Nepal shares 1770Km long border with India from East and South to West. Kakarbhitta, Birjunj, Belahiya (Bhairahawa), Jamunaha (Nepalgunj), Mohana (Dhangadhi) and Gaddachauki (Mahendranagar) are the six major entry/exit points along Nepal-India border.
Entry point of Nepal from China
Nepal shares its 1389Km long northern border with China. Kodari and Rasuwagadhi are the two entry/exit points along Nepal-China border. Humla (Simkot) border between Nepal and China is occasionally used by tourists to make direct visit to Mansarovar and Kailash and further to Lhasa.
Visa Center
Nepal has not authorized any private company/institute to issue visa on behalf of Nepal Government. Hence, tourists can get visa either from Nepalese Embassies abroad or on-arrival visa. On-arrival visa is issued from following places/office.
Land entry ports such as Kakadbhitta and Belahia
International airport such as Tribhuvan International Airport and Gautam Buddha International airport
Nepalese embassy or diplomatic mission in or near your country.
Nepal immigration department office in Kathmandu (for visa extension only)
Visa requirements for Nepal
To apply for Nepal Tourist visa, following documents are mandatorily required.
Valid passport having minimum validity for six months and with at least two blank visa pages
Nepal Tourist Visa Application Form (completed online and printed)
Passport-size photograph
Covid vaccination certificate
Business visa
Nepal Business visa is open for investors and business people who hold a purpose of investing or undertaking business in Nepal. Business visa is issued for at least a month up to 1 year / for whole five years at a time and entails multiple Re-entry facility.
For more information, please visit official site of Nepal immigration.