Nepal is a multi-ethnic, multi-lingual and multi-religious country. There are 124 ethnic groups in Nepal, each with their own unique culture, customs and language. Celebration of festivals and observance of religious rituals constitute major part of people's lives. Festivities are a perfect occasion for families to get together and exchange love and happiness. Nepali calendar is filled with one or other festival round the year. Especially Autumn and Spring seasons are periods when the country is in full swing observing festivals. Dashain and Tihar which occurs in Autumn season are two biggest festivals of Nepal. Indra Jatra, Teej, Holi, Shiva Ratri, Chhath Parwa are also equally important and popular festivals of Nepal.
Dashain festival of Nepal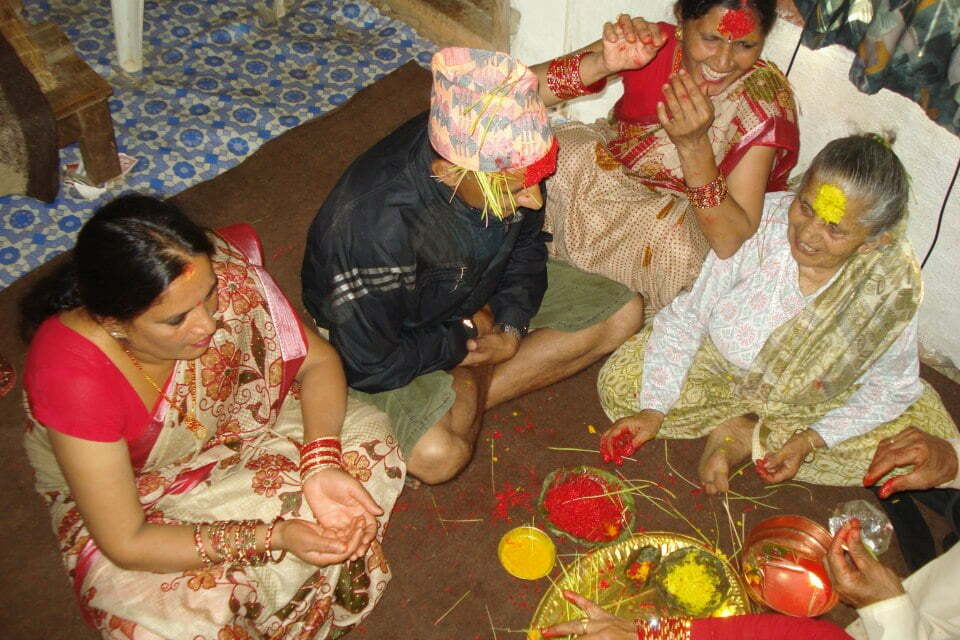 Dashain- also referred as Bada Dashain- is the biggest and longest festival of Nepal, primarily observed by the Hindus. The auspicious festival marks the victory of Durga (good) over demon Mahisasur (bad) and this is why people pay respects to goddess Durga. Observed for 10 days, the festival brings together separated family members to share love and happiness, eat delicious food, wear new clothes and engage in various fun-filled activities. Animal sacrifices are made in all the temples of goddess Durga throughout the country and Tika and blessings are observed on the tenth day.
Tourists can choose to celebrate Dashain with the families of their Nepali friends and local guides.
When do Nepalese celebrate Dashain Festival?
Dashain festival occurs during the month of October. It is a 10-day long festival dedicated to the worshipping of Durga.
---
Tihar festival of Nepal or Festival of light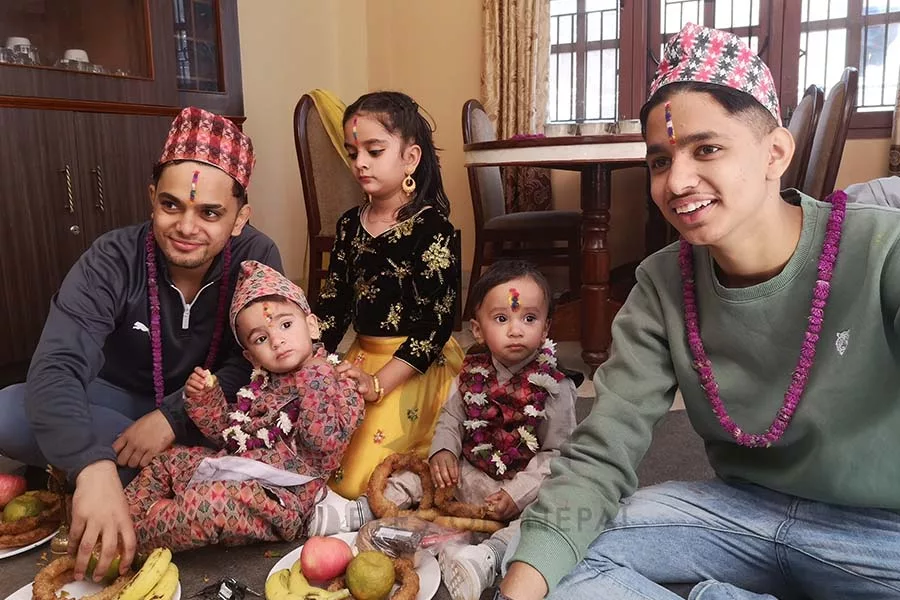 Tihar is the second biggest festival of Nepal observed during Autumn season. Called the festival of lights, colours and flowers, it is a five days long festival dedicated to the worship of goddess Laxmi (wealth). During this festival, people also worship cows, dogs and crows and prepare delicious selroti. Home and street dogs and cows are particularly worshipped and offered special food on this particular day. The final or fifth day of the celebration is called 'bhaipuja' when sister receive blessings from their brothers.
Homes are lit with oil lamp and lights all across Nepal during the festival period. In the evening children perform Deusi-Bhailo by visiting homes and singing deusi age-old hymns. Tourists can be part of this spectacle and participate in Deusi-Bhailo program and witness Nepal's unique culture.
When is Tihar festival celebrated?
In 2023, the Tihar festival is set to occur from 23 October to 27 October. The main day of Tihar or Bhai tika / Bhai pooja falls on 27 of October.
---
Maha Shivratri or Lord Shiva's birthday
Celebrated by Hindus, Maha Shivarati is a festival dedicated to supreme lord Shiva. Pashupatinath Temple located in Kathmandu attracts thousands of pilgrims during Shiva Ratri. Lord Shiva is believed to have been born on this day.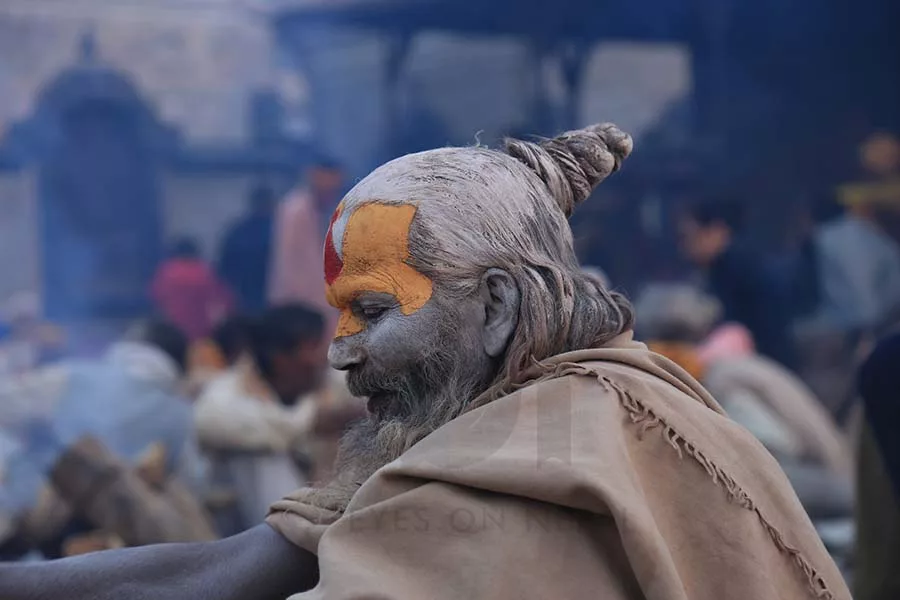 In invoking and celebrating Shiva's grandeur, people often smoke marihuana and drink an intoxicating drink called Ghota. For tourists, it will be interesting to watch Naga babas and sadhus perform acrobats and indulge in hookah and marihuana. Bonfire are raised deep into the night as the celebration continues.
When is Maha Shivaratri in 2023?
Maha Shivaratri festival occurs on 18 of February in 2023.
---
Chhath Parva festival of Nepal | Festival of Sun God
Chhath Parva festival celebrates by Maithili and Madheshi community in Terai region of Nepal. During this festival people worship the Sun as the god of energy and life force. Chhath Parva is celebrated for 4 days during October/November, from Kartik Shukla chaturthi to kartik shukla saptami. Devotees offer sweets, fruits, flowers to rising and setting sun and immerse themselves in river/lakes etc.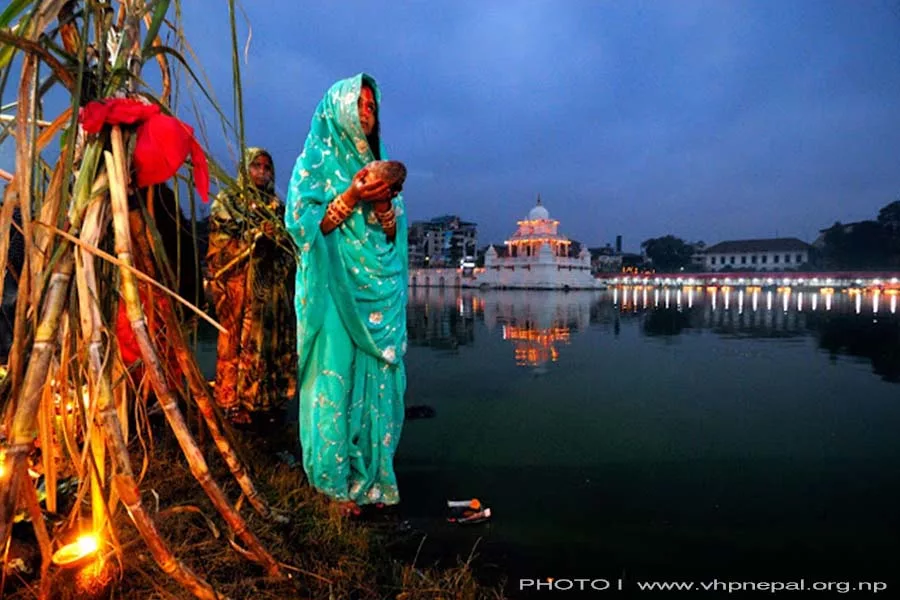 Main celebration of Chhath Parwa takes place in Janakpur. In Kathmandu, devotees observe Chhath Parva in Rani Pokhari and Kamal Pokhari.
When does Chhath Parwa occur in 2023?
In 2023, Chhath Parwa is being observed from 17-20 November.
---
Budhha Jayanti festival of Nepal | Buddha's birthday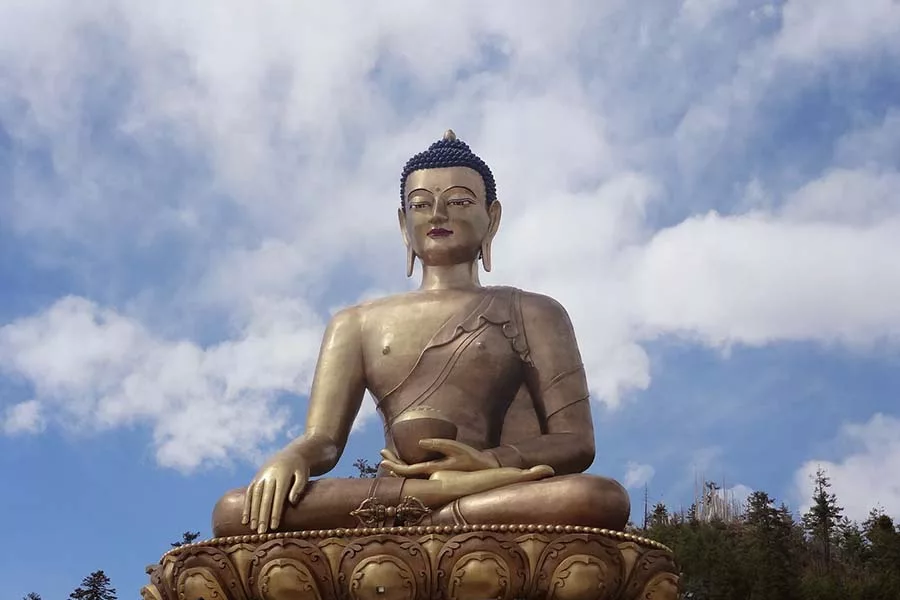 The birthday of Buddha falls on the full moon day of April and is celebrated as Buddha Jayanti. Devotees on this day visit Buddhist temples and chaityas such as Swoyambhunath, Boudhanath, Namo Buddha etc and pay respects to Buddha and his teachings. Buddha is believed to have attained enlightenment and final nirvana on this very day.
When is Buddha Jayanti in 2023?
Budhha Jayanti is being celebrated on 5 May 2023.
---
Indra Jatra festival of Nepal | Festival of lord of Rain
Started by King Jaya Prakash Malla in 18th century, the 8 day long Indra Jatra festival is chiefly celebrated by the Newar inhabitants of Kathmandu Valley. It is believed that Indra Jatra was observed to appease Indra, the God of rain, for rainfall for better harvest. Indra Jatra begins every year from the day of the fortnight dwadasi bhadra month to Aswin Krishna chaturdasi. Devotees pull Special chariots of Goddess kumari , Lord Ganesh and Lord Bhairav through the older parts of the Kathmandu city.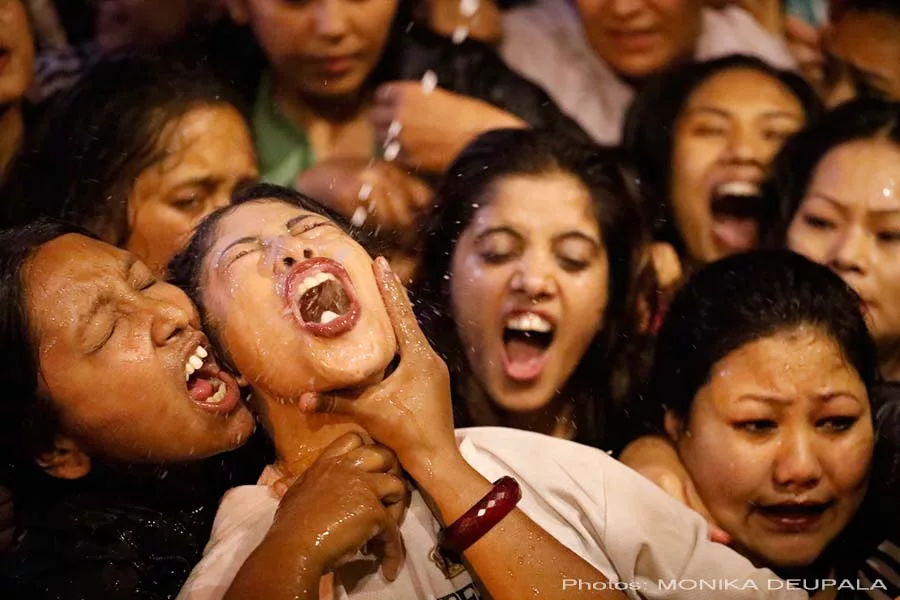 Most events such as raising linga (wooden pole), Newari dance performance and public appearance of living goddess Kumari, all happens at Kathmandu Durbar Square. So tourists may visit Kathmandu Durbar Square to take part in this festival.
When is Indra Jatra observed in 2023?
Indra Jatra will be observed on ……2023 in three different parts: Kathmandu, Patan and Bungmati.
---
Janai Purnima festival of Nepal | Rakshya bandhan
Also known as Rakshya bandhan, the Hindu festival of Janai Purnima falls on the full moon day in the month of August. On this day, Brahmin and Chhetri communities considered the highest castes in Hindu community, replace old with new holy thread. People believe that Janai or sacred thread provides protection from illness and bad omen. Devotees in great number throng religious sites such as Pashupatinath in Kathmandu, Kumbheshwor in Lalitpur and Gosaikunda in Rasuwa.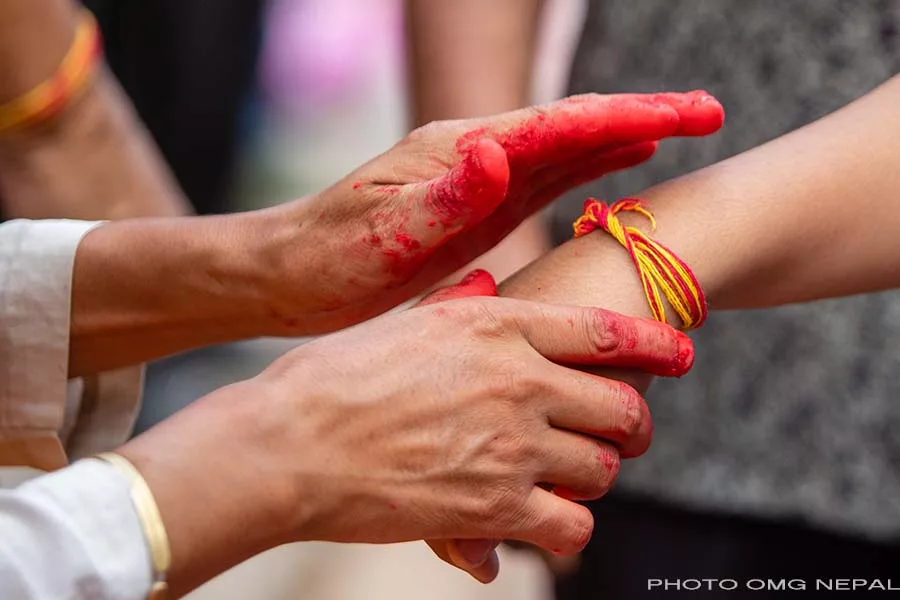 Tourists can witness Janai purnima festival happening at Pashupatinath Temple and Gosainkunda.
When is Janai Purnima observed in 2023?
Janaipurnima or Rakshya Bandan will celebrate on 30 August, 2023.
---
Holi or Festival of colors of Nepal
Holi or the festival of colours is celebrated on the full moon day of February to mark the victory of good over evil. People play with water and colors, visit relatives and friends and exchange greetings.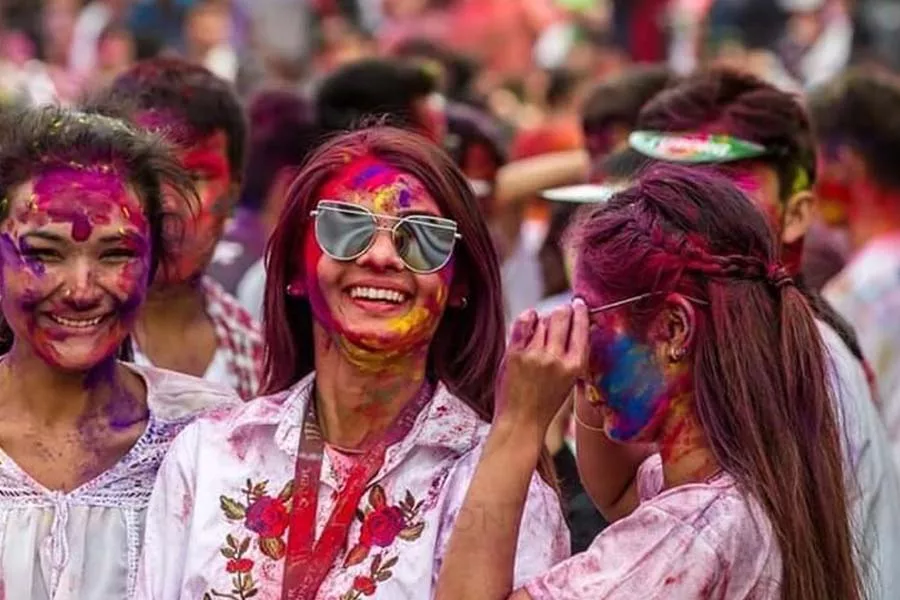 Holi signifies the end of cold season and the welcome of Spring season. It is nowadays celebrated mostly for fun, entertainment and camaraderie among people of all backgrounds and culture.
Over the years Holi has become a major tourist attraction in Nepal. Touristic places like Kathmandu Durbar Square, Thamel, Bhaktapur, Patan host Holi festivity in participation of locals.
When is Holi festival in 2023?
Holi falls on 8 March 2023 in hill region and 9th March 2023 in Terai region of Nepal.
---
Teej festival in Nepal
Haritalika or Teej is a Hindu festival is celebrating by women and girls and occurs in Shravan (August-September). The festival marks the dedication of Parvati to his husband Lord Shiva and their ultimate reunion. Married women observe fasting for the long life of their husbands and girls for fulfilling their wish of getting a better husband. Besides fasting, women decorate themselves in red, green or orange costume and celebrate together by dancing, singing, telling stories, and playing under swings.
Tourists can participate and witness Teej festival in all Shiva temples across Nepal. Note that the biggest Teej celebration takes place at Pashupatinath Temple.
When is Teej festival in 2023?
Teej Festival occurs on 19 August 2023.
Tiji festival of Upper Mustang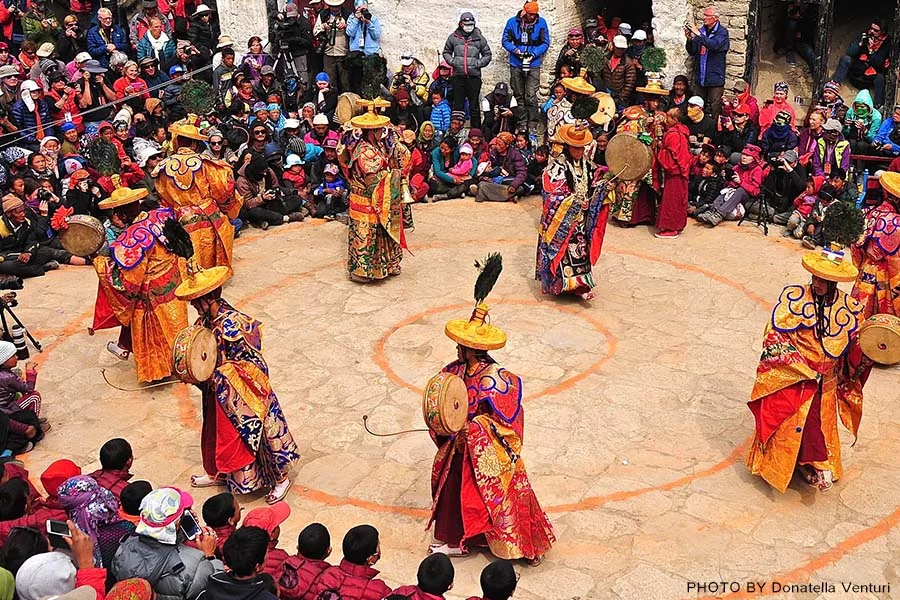 Tiji Festival is a Buddhist festival celebrated ever year in Lomanthang, Upper Mustang. Tiji means "Prayer for World Peace" and the festival commemorates the victory of Lord Buddha's over a demon called Man Tam Ru. During the three days, the monks from Choedhe monastery perform various dances enacting the struggle between the Buddha and demon. The festival is celebrated for 3 days and occurs in Summer season between May-June.
When is Teej festival in 2023
Upcoming Date of Mustang Tiji Festival in Lomanthang.
2023 Tiji Festival Date – May 16th, 17th, and 18th
2024 Tiji Festival Date – May 5th, 6th, and 7th
2025 Tiji Festival Date – May 24th, 25th, and 26th