Poonhill trek is one of the most famous short treks of Nepal. The trekking trail is easily accessible from Pokhara and the entire trek can be completed in 2 to 5 days. Here we are exploring Poon hill trek itinerary.
Why Poon hill trek is so famous?
Poon hill trek is a short from Pokhara and scenic trek in the famous Annapurna region. The trek is suitable for all age groups of travelers. Poon Hill rises to an altitude of 3210m and offers magnificent panorama of Annapurna, Dhaulagiri and Macchapuchre mountains along with sunrise/sunset. The trekking trail has good and comfortable lodges.
I have done Poonhill trek several times. The first time I went there was almost 25 years ago when I was just 15. Back then the trail was simple and the lodges were very basic. Over the years its popularity has increased drawing in thousands of trekkers every year. From just serving Nepali Dal Bhat and Tibetan bread, today you can easily get international cuisines, including a variety of cold and hot beverages. Today you will find luxury lodges, transportation, electricity, internet, good sanitation and water facilities.
Who can do Poon hill trek?
Anyone with normal physical fitness can do Poon hill trek. The only difficult part of this trek is the crossing of steep uphill section from Tirkhedhunga to Ulleri. The trail from Tirkhedhunga to Magar village of Ulleri involves climbing 3,381 stone steps.
When is the best time for Poon hill trek?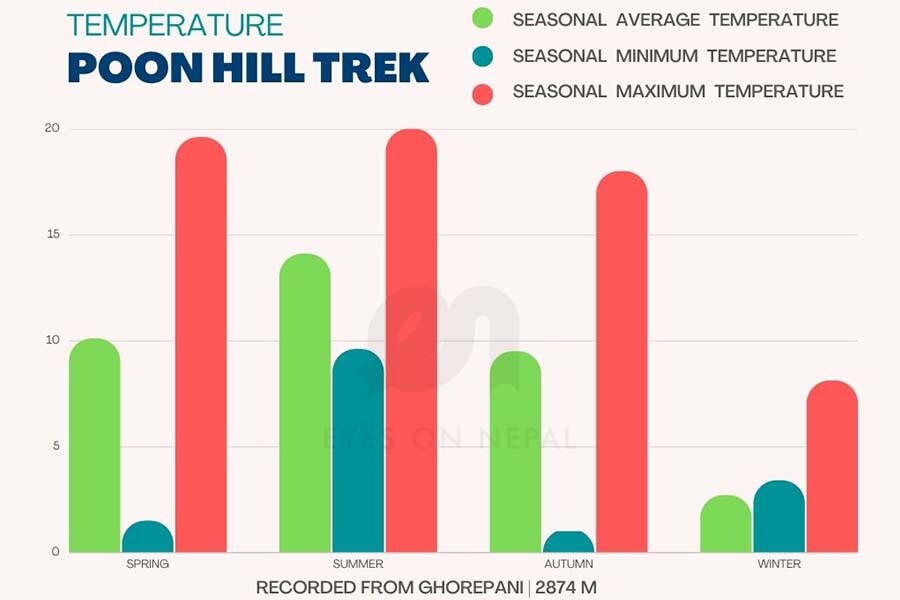 Autumn and spring are the best periods for Poon Hill trek as the weather is neither too cold or nor too hot. Besides, you will also fall in love with colorful flowers and snow capped mountains. But, if you love to play with snow, winter would be an ideal season. Note that the section from Deurali to Tadapani is slippery and icy.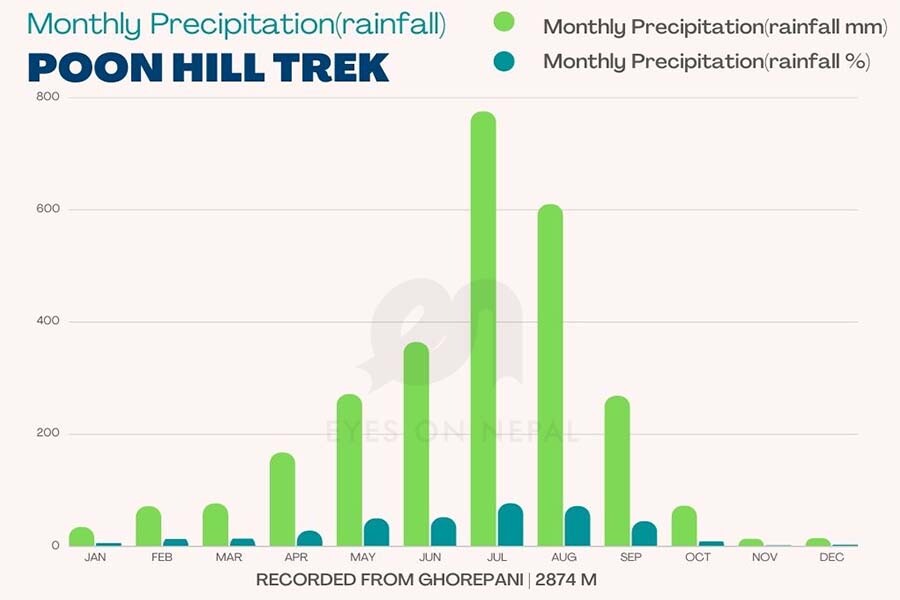 In Monsoon trekking trails turn muddy and you will find leaches everywhere. Visibility is not clear so you may not see the snow caped mountains at all times, but you will enjoy the views of green hills, jungles, river and water falls.
Mountain view from Poon hill
Poon hill is popular for its splendid view of majestic mountains. Trekkers can also witness amazing sunset and sunrise view. Dhaulagiri (8167M,) Manaslu (8163m), Annapurna I (8091m), Annapurna South are clearly visible from Poon Hill.
Ghorepani Poon Hill Trek Distance Coverage
The Poon Hill trek starts from Nayapul, which is one hour drive or 40km distance from Pokhara. The total distance from Nayapul to Ghorepani Poonhill and back to Nayapul from Tadapani Ghandruk is about 56 kilometers. The longest segment of the trek is Ghorepani-Poonhill-Ghorepani-Tadapani, about 18 kilometers.
Trekking Trail Route
Distance (km)
Time (hrs.)
Altitude (m)
Nayapul to Ulleri
10.8
5 – 6 hrs.
2,055.00
Ulleri to Ghorepani
8.0
5 – 6 hrs.
2,860.00
Ghorepani to Poon Hill
3.0
2 – 3 hrs.
3,210.00
Poon Hill to Ghorepani
3.0
1 – 1.5 hrs.
2,860.00
Ghorepani to Tadapani
12.0
6 – 7 hrs.
2,630.00
Tadapani to Ghandruk
6.0
2 – 3 hrs
1,940.00
Ghandruk to Nayapul
13.2
5 – 6 hrs.
1,070.00
Total
56.0km
Distance Coverage of Poon hill trek
Ghorepani Poon Hill Trek Altitude/height Variation
Poon hill trek is a low altitude trek, below 3000m. There is almost zero chances of suffering from altitude sickness on this trek. The highest point of this trek is top of the Poon hill at 3210 meters from sea level
| | |
| --- | --- |
| Name of Destination | Altitude(m) |
| Pokhara | 822m |
| ULLERI | 2,055m |
| GHOREPANI | 2,860m |
| TADAPANI | 2,630m |
| Ghandruk | 2,012m |
| POKHARA | 822m |
| Max Altitude(Poon hill) | 3,210m |
Altitude/height variation of Poon hill trek
Poon hill trek route
There is only one route for Poon hill trek. Pokhara-Nayapul-Ulleri-Ghorepani-Poonhill-Ghorepani-Tadapani-Ghandruk-Nayapul-Pokhara or vise versa. Nayapul-Ulleri-Ghorepani -Tadapani-Ghandruk-Nayapul route is the clockwise route and Nayapul-Ghandruk-Tadapani-Ghorepani-Ulleri-Nayapul route is known the anti-clockwise route.
Clockwise route is easier than anti-clockwise in that you get to explore Ghandurk/Tadapni village. Anticlockwise route is a bit tougher, that's why we suggest clockwise route.
Poon hill trek itinerary. How long does it take to complete Poon hill trek? 2, 3, 4 or 5 days?
The beauty of doing Poon hill trek is its flexibility. You can customize the trek according to you timeframe. Poon Hill trek is best manageable in 5 days. Whatever is the duration, you will hike to Poon hill at the height 3210m. Nowadays, because of new road constructions, you can directly travel to some parts of Poon hill trek on a 4X4 wheel jeep. Taking roads will help you to shorten your trek duration.
Poon hill trek itinerary 5 days
5 days Poon Hill trek is a classic and most famous trekking itinerary. The trek starts from Nayapul, which sabout 1 hour drive from Pokhara. Trek through Birethanti, Ramghat, Hile and Tikhedhunga and then stay overnight in Ulleri. Next day trek to Gorepani and Poon hill, then continue the trail to Tadapani, Ghandruk and Nayapul and finally back to Pokhara.
5 days Poonhill trek itinerary
Pokhara – Nayapol – Tikhedhunga – Ulleri (2020m) – Banthanti | Day 1
Banthanti – Ghorepani (2860)- Poonhill | Day 2
Poonhill Ghorepani – Tadapani (2630m) | Day 3
Tadapani – Gandruk (2470m) | Day 4
Gandruk – Syauli Bazar – Pokhara | Day 5
There is not much difference between 4 days or 5 days Poon hill trek. You will start the trek from the same point and follow the same route till day 3. Instead of staying overnight in Ghandruk, you will return to Pokhara the same day. On either itinerary, you will visit the Ghandruk village. Many people with limited time prefer to do 4 days trek.
4 days Poonhill trek itinerary
Pokhara to Ulleri (2020m) | Day 1
Ulleri to Ghorepani (2750m) | Day 2
Ghorepani to Tadapani | Day 3
Tadapani to Pokhara | Day 4
3 days Poon Hill trek is popular among trekkers who have very limited time in Nepal. On this itinerary, you will skip the non-scenic part by choosing to take the road. You will start the trek from Ulleri and reach Ghorepani the same day. On Day 2, you will stay overnight in Tadapani and finally on day 3 return to Pokhara.
3 days Poonhill trek itinerary
Pokhara – Ulleri(2070m) – Ghorepani (2860m) | Day 1
Ghorepani (2860m) – Tadapani (2630m) | Day 2
Tadapani – Gandruk (2470m) – Pokhara | Day 3
2 days Poon Hill trek is the shortest itinerary. This is least preferred Poon hill trek itinerary. You will drive to Ghopani from Pokhara via Beni and Tatopani on the first day. On day 2, you will return back to Pokhara. This itinerary is hectic and you will spend most of your time travelling on road.
2 days Poonhill trek itinerary
1st Day 1: Pokhara – Beni-Chitre-Ghorepani(2860m)
2nd Day : Ghorepani (2860m) – Poonhill(3210m)-Ghorepani-Chitre-Beni-Pokhara
Final Word
Nowadays, some trekkers want to avoid the uphill section from Tikhedhunga to Ulleri (3381 stone steps). If you do want to avoid this section, then take a jeep directly from Pokhara to Ulleri. This will shorten your Poon hill trek to 3 or 4 days. However, we don't suggest to escape you to skip any section but live the trekking experience. Our best suggestion is either 4 days Poonhill trek or 5 days Poon hill trek. Anyways, it all depends upon your time and interest.
Should you need any assistance to organize the trek, please feel free to contact us at sales@eyesonnepal.com
We welcome your comments and suggestions.